Finally! Foyle's War is returning to PBS in May with new episodes! VE Day has been celebrated in Foyle's world, but war and mystery are not over in these three new episodes!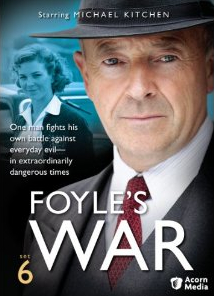 If you remember, the "brains" at ITV canceled Foyle's War, but then decided that was a mistake, but then the economy flubbed and the show was canceled again after only three new episodes*. For U.S. viewers that means we last saw Season 5, in which much of the war was skipped over  so the series would "end" on VE Day. Season 6 has three new episodes beginning in the after-effects of VE Day.
Amazon.com is listing June 1 as the release date for the corresponding Season 6 DVDs.
Woot, woot…reason to celebrate! Foyle, Sam, Milner and the gang!
*There are rumors on the Internet that if viewing numbers are high, there will be additional episodes. I don't see anything about that on writer/creator Anthony Horowitz's website, but it is an incentive to watch and get those numbers as high as possible. This season airs in the U.K. in April, so no viewer numbers are available yet. (The U.S. and U.K. have numbered the series differently. In the U.S. this will be Season 6, but in the U.K. it is Series 7…same episodes, different numbering.)
Note: I am not affiliated in anyway with PBS, ITV, Foyle's War, or Amazon. This is fan news. Thank you FCC.